目前日期文章:200704 (14)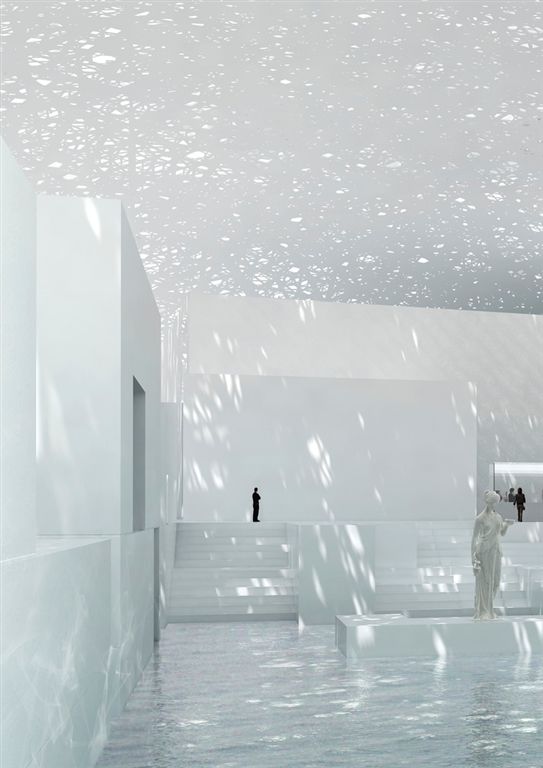 Approaching the Louvre Museum in Abi Dhabi from the city, the white, low cupola seems a flattened echo of the round cupolas found in Arab architecture.
Approaching from the water, the shaded space shows its scattered light, which continues the sparkling light of the water onto the architecture.
On a more abstract level, the museum is a 'city' with houses, streets and plaza's that is 'protected' from the sun by a Buckminster Fuller kind of dome. If we fold it a bit further: if 'protection' becomes 'conservation', we could also read in it all a small Pompeii. The cupola becomes the ash that conserves a civilization.



Eikongraphia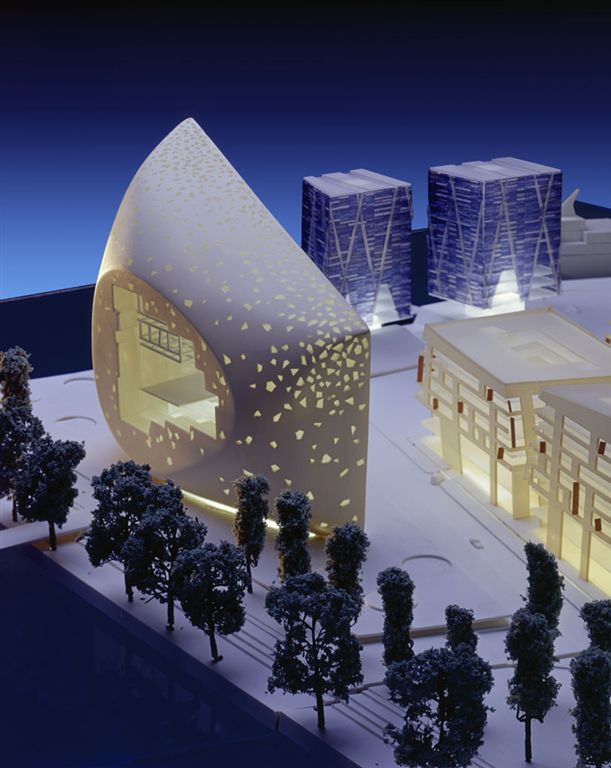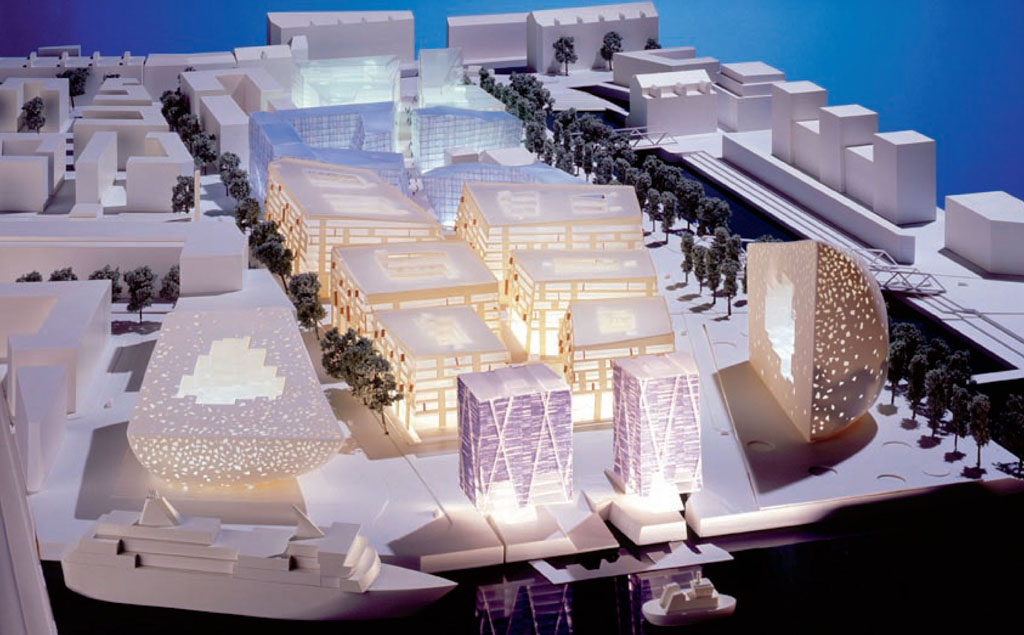 The new Science Center in Hamburg designed by Rem Koolhaas/OMA looks just like an amethyst. As Rem Koolhaas despises the explicit use of iconography in architectural design, the amethyst analogy is not deliberately meant. The Science Center measures 14.000 square meters and features an aquarium, an academic theater, and probably also a planetarium.
Eikongraphia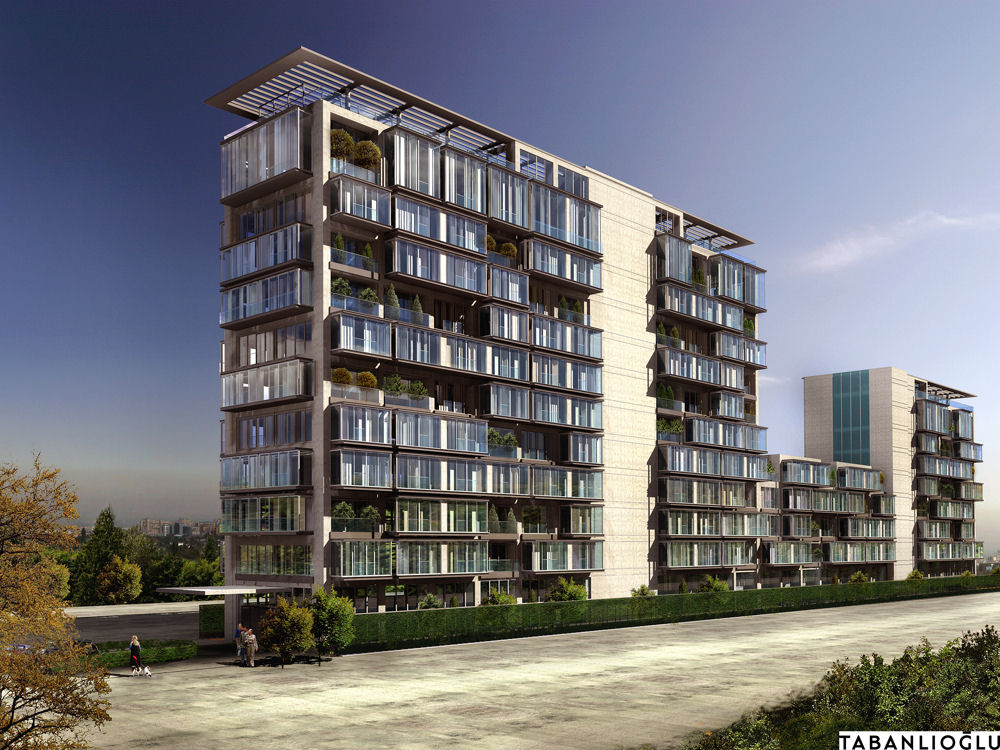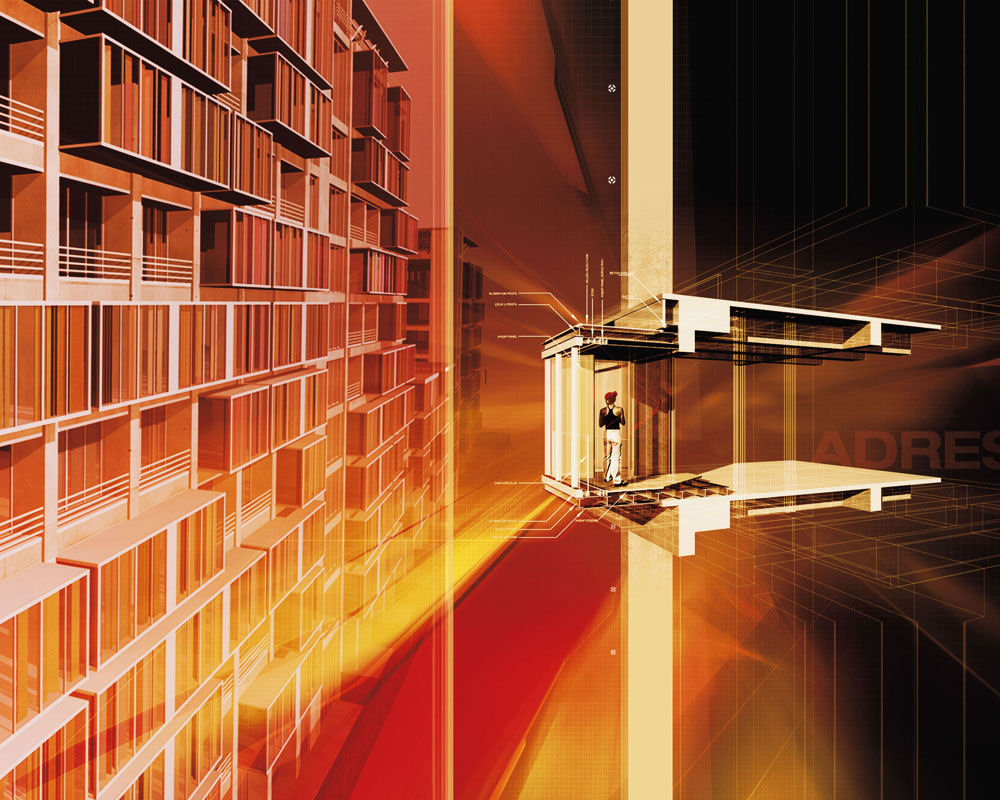 The existing construction primarily started as an office building; the building is re-designed as a residence bearing the Loft concept. The long, thin planned building is located on a total 3.870sqm area, the front block consists of 11 stories above the ground floor, and the rear block is ground-floor +7 stories. Lofts are at various sizes and types; differing from 68 to182sqm; including duplexes; with terraces or gardens. The façade is perceived as an assortment of boxes; also, each unique module shall be distinguished from outside due to the curtain system, a range of colors and light will be reflected from inside, as a method of benefiting functional solutions for esthetics purposes. Offering an efficient, tranquil, life style in modern-day standards in "downtown", the complex is supported by the recent technologies; the car park, storage, central heating and ventilation, security, maintenance services and "intelligent house" system grant a user-friendly environment and easy access. The building is not only programmed as a housing facility but also it is planned to be a high quality social venue; the entrance is made through the lobby on the first floor where meeting rooms, a health center, cafés and restaurants and the other common areas take place. Total site area is 3.456 m² and the construction area is 30.159 m².



Architectureweek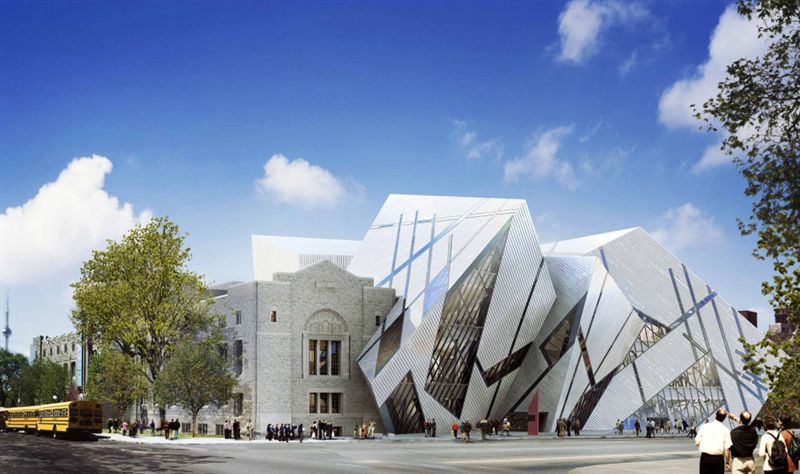 A dramatic new wing of Toronto's Royal Ontario Museum (ROM) designed by Daniel Libeskind is set to open 2 June. Dubbed the Lee-Chin Crystal, the 175,000 square foot aluminum and glass clad building will house seven collection galleries on two levels, two special exhibition spaces, new retail and dining facilities and a new main entrance and lobby. Libeskind's 'Crystal" is comprised of five interlocking, self-supporting prismatic structures that interface with the historic buildings that embrace it. With hardly a right angle anywhere, its sloping walls create unique interior spaces with soaring volumes and such distinctive details as the "Spirit House", a void at the heart of the building that is traversed by criss-crossing bridges. Slashing windows fill the rooms with natural light and create uniquely framed views of the cityscapes outside. The new wing is the centerpiece of the Museum's $250 million expansion and renovation project to be completed by 2009.


WorldArchitecturenews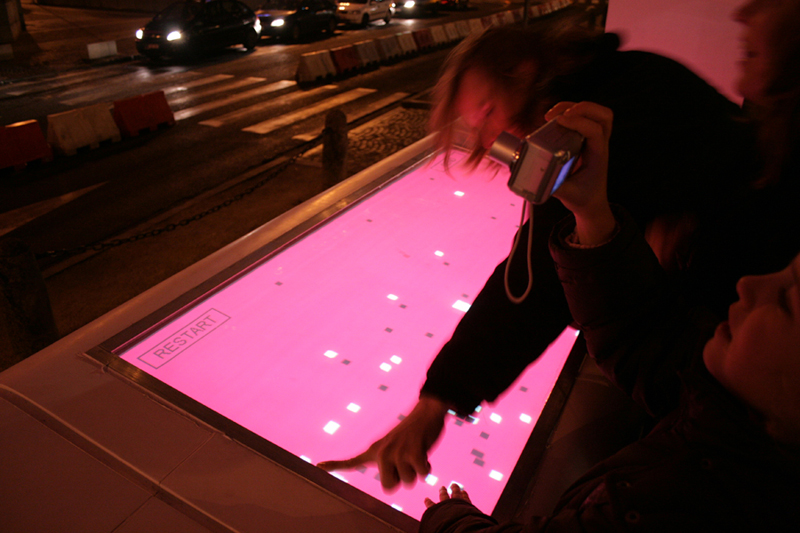 LAb[au] is happy to announce you its new urban interactive installation Touch on the DexiaTower and Place Rogier in Brussels, Belgium. The project takes as a starting point Brussels 145 m high DexiaTower, from which 4200 windows can be individually colour-enlightened by RGB-led bars, turning the facade into an immense display.

Instead of considering this infrastructure as a flat screen (surface) displaying pre-rendered video loops, the project is working on the architectural characteristics of the tower and its urban context. The characteristics of the building; orientation, volume, scale… are used as parameters to set up a spatial, temporal and luminous concept, which moreover allows people to directly interact with the tower.On Place Rogier, at the bottom of the tower, a station is mounted where people can interact either individually or collectively with the tower through a multi touch screen.


MediaArchitecture      Video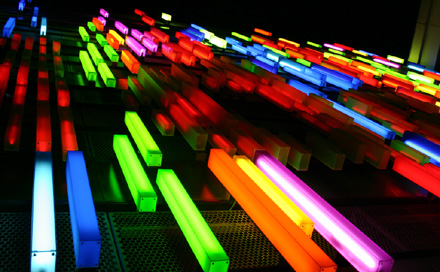 Kunst oder künstlerisch - imposant auf jedenfall! Die Fassade des Parkhaus KaDeWe, ausgestattet mit über 100 farbigen Perspexkanälen und dem idee. Schriftzug mit LED animiert, macht ordentlich was her.


Roomdividion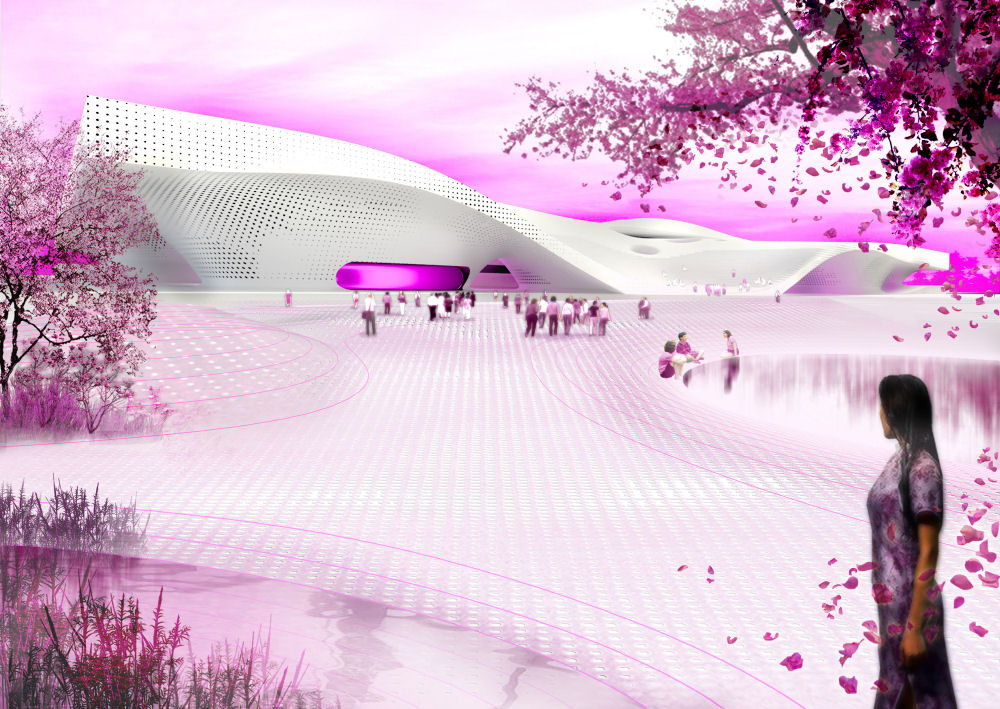 The Governor of Kaohsiung, Taiwan announced that Mecanoo architecten has won the design competition for the new National Performing Arts Centre. At 100,000 m2 the National Performing Arts Centre is to become the largest theatre complex in Taiwan. An important source of inspiration for Mecanoo's building design were the existing one of the world's largest trees, the banyan trees on location. The partially grass and plant covered roof creates natural and efficient building cooling in the subtropical climate. The large roof also provides an informal public space where the city residents can stroll, practice Tai Chi, mediate or just relax. The design also consists of a concert hall of 2,300 seats, an opera house with 2,000 seats, a theatre hall with 1000 seats, an experimental Black Box with 500 seats, an open-air theatre and park design. Work on the 200m Euros is set to begin in early 2009 and to be completed by 2012.


WorldArchitectureNews