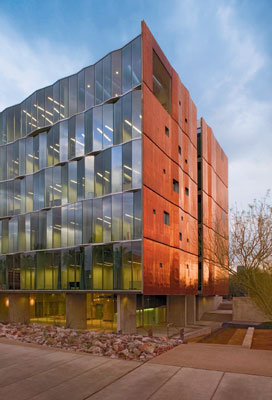 Meinel Optical Sciences Expansion
Tucson, Ariz.

This research laboratory is a 47,000-square-foot expansion of the University of Arizona's optical sciences department. The building contains state-of-the-art optical research labs, teaching labs, classrooms, interaction areas, and research offices for the world-renowned program. The building's design is conceived as an abstraction of landmark inventions in the history of optics, such as the camera obscura. Within the simple volume, daylight is introduced by skylighted shafts that illuminate interior spaces. The cast-in-place concrete structure is sheathed in a copper alloy that patinates to a reddish bronze hue, recalling the color of the brick featured throughout the campus.



Archrecord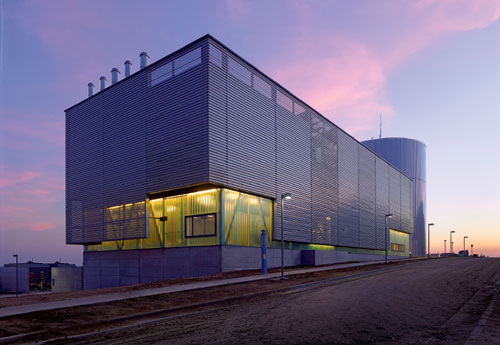 University of California, Merced Central Plant
Merced, Calif.

As part of the first phase of construction of a new university campus serving the state of California, this plant plays a key role in achieving the ambitious sustainable-design goals outlined by its Board of Regents. The complex comprises a three-story plant building, a 30,000-ton-an-hour thermal storage tank, and a telecom building inspired by the Central Valley's vernacular architecture. The exterior walls of the plant and tank are clad in corrugated-metal panels similar to those found on the area's ubiquitous grain silos. Channel glass wraps the base of the building, allowing daylight inside. The project features numerous sustainable initiatives that include diverting 77 percent of waste from landfills and using recycled products.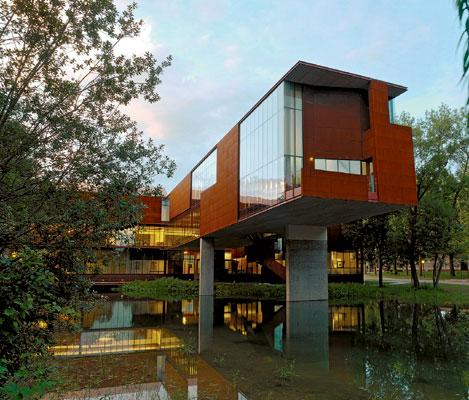 School of Art and Art History, University of Iowa
Iowa City, Iowa.

This 70,000-square-foot building includes facilities for sculpture, painting, printmaking, graduate studios, administrative offices, a gallery, and a library. The building explores "formless" geometries, spaces where the outline of the volume is implied rather than explicitly rendered. Flexible studios open to the outdoors in warm weather. The main horizontal passages serve as meeting places with interior glass walls that reveal work in progress. Around the perimeter, spaces overlook, overlap, and engage the surrounding natural landscape.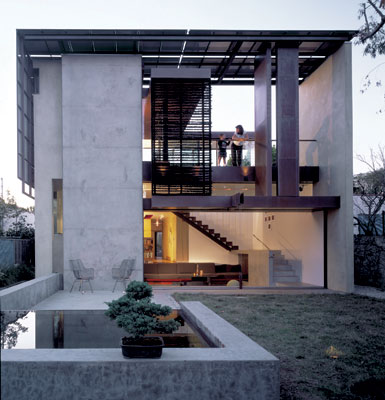 Solar Umbrella House
Venice, Calif.

Located on a 41-foot-by-100-foot lot, the Solar Umbrella House (inspired by Paul Rudolph 's 1953 Umbrella House) transforms an existing 650-square-foot bungalow into a 1,800-square-foot residence. Passive and active solar energy render the house 100 percent energy neutral. Recycled, renewable, and high-performance materials are specified throughout. Landscape treatments were designed for their aesthetic appeal as well as their physical impact on the natural setting.