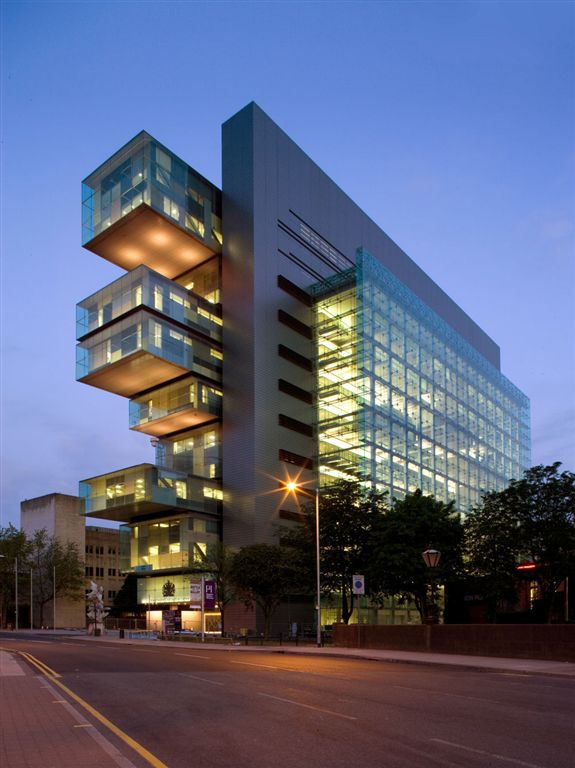 Lord Falconer, the Lord Chancellor and the Secretary of State for Justice, visited the new Manchester Civil Justice Centre as Denton Corker Marshall's Guest of Honour at a special preview on Wednesday 30th May 2007. Founding Directors John Denton, Bill Corker and Barrie Marshall will fly from Melbourne to Manchester today to host the event which marks the practice's first major civic building in the UK. John Denton, Founding Director of Denton Corker Marshall added, "We are delighted that Lord Falconer is able join us in Manchester to celebrate our practice's first major public project in the UK.
We wanted to create a building that would not only signal and display the transparency and accessibility of the courts and courts system, but that would also become a strong sculptural urban marker for the city. It forms an integral part of Allied London Properties regeneration of the Spinningfields area in the city and we hope that in time, it will help promote civic confidence and pride in this part of Manchester." Stuart Lyell, Allied London Development Director said: "Outstanding architecture lies at the heart of all Allied London developments. The international design competition for the new Civil Justice Centre has resulted in a truly world-class signature building and Denton Corker Marshall are to be congratulated on realising their vision.
This magnificent civic building gives Manchester a new iconic landmark an important contribution to the huge success of Spinningfields, one of the most significant office-led mixed use developments in Europe." Manchester Civil Justice Centre is the largest court complex to be built in the UK since the Royal Courts of Justice in the 19th Century. It will be the new HQ for the Ministry for Justice in the North West, providing accommodation of around 34,000m² on 15 levels. It houses 47 courtrooms, 75 consultation rooms, in addition to office and support space. Sir Richard Leese, Leader of Manchester City Council said: "The Civil Justice Centre is an exemplar of how cutting-edge architecture can be incorporated within the existing city fabric to provide a building of world-class design quality for a world class city. The building provides an exciting addition to the city's skyline and is a key contributor to the regeneration of Spinningfields."
WorldArchitectureNews